10 Reasons Why the F10 will Supercharge the Way You Irrigate
From our unique product designs through to our collaborative approach. We work alongside you, our farmers, hear your frustrations and design solutions to assist you and ultimately ensure the Australian Agricultural future through improved irrigation outlet design.
You can't control the weather but with Padman Stops you can control your water. Get the right amount on and shut it off at precisely the right time, every time. It's the perfect solution for flood irrigation optimisation and streamlining your irrigation affordably.
You spoke, we listened… It's bigger, wider and the ultimate in functionality.  The NEW bay outlet, the F10 is customisable to your farm irrigation needs and layout.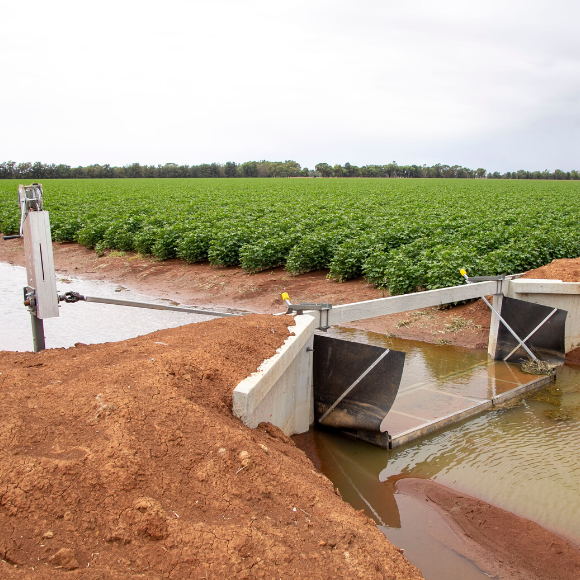 Here's 10 Reasons Why this New Product Can Work for You
1. Higher water flow through a massive 3 metre by 0.85-metre-high door
2. Adjustable wings specific to your soil and bank width to minimise erosion and the risk of machinery damage
3. A singular, portable, low cost drive and automation unit delivers large volumes of water through 2 structures at once
4. Fully adjustable overflow doors with staged release to control flow and erosion and bi-directional flow
5. Multi linking to get a mammoth 6 metre opening width – say goodbye to erosion!
6. Famous long-lasting proven rubber
7. OHS friendly walkways & handrail options to keep you and your staff safe
8. DIY Panel form means multiple units can be packaged and transported on pallets for a freight friendly option
9. Comes with standard inclusion of the unique PosiDrive system
10. Eliminates cables and eats trash
This video explains how we take feedback from our customers and turn that feedback into a product. Feel free to share this with your friends.
"30 years of innovation based on YOUR feedback"
Outstanding Benefits of the PosiDrive Positive Drive System
– It eliminates the use of cable and eats trash.
– Steady door opening duration of 8 minutes per cycle helps eliminate erosion control.
– The door is positive drive so holds it's position with water flowing either way
– Quality built and tested
– High torque with lifting ability of 800kg loads
– Fully automatable or can be operated manually.
– Allow distribution pond drainage back into channels
– Facilitates multiple door operation from one drive and automation unit
See more PosiDrive info:
Want more information on our Automation?
Visit Padman Automation Website