The GVIA Irrigation field days at Keytah station is held in conjunction with the IREC and Southern NSW irrigator tour to the Gwydir valley region.
If you are a farmer, this is an event you don't want to miss! These farm tours are a great way to network and learn from other farmers and industry experts. You never know, you may just be able to provide insight and value to other farmers too.
The Smarter Irrigation for Profit Southern NSW irrigation efficiency research team are again bring this event to us. Topics covered over the tour will include automation for the cotton surface irrigation industry. Use of in-field sensors and a growers perspective to design and adoption of autonomous irrigation.
The tour will include a visit to the Sydney University research site at Narrabri, the GVIA field day at Keytah, Moree and Moxey's Dairy near Forbes.
Grant Oswald our in-house automation guru along with many of the Padman Stops team will be on hand for the field days to answer all your questions. Grant will speak about the automation project we have been working on at Keytah for the last year. Gain insight into the process and innovation outcomes that have come out of this project. Hear first hand from the farmer about their experience rolling out a major farm automation project.
The Details:
When: 9th to 11th Feb, 2021
Where: Griffith to Moree and back with the field days at Keytah station, Moree NSW
Farm Tour Price: $50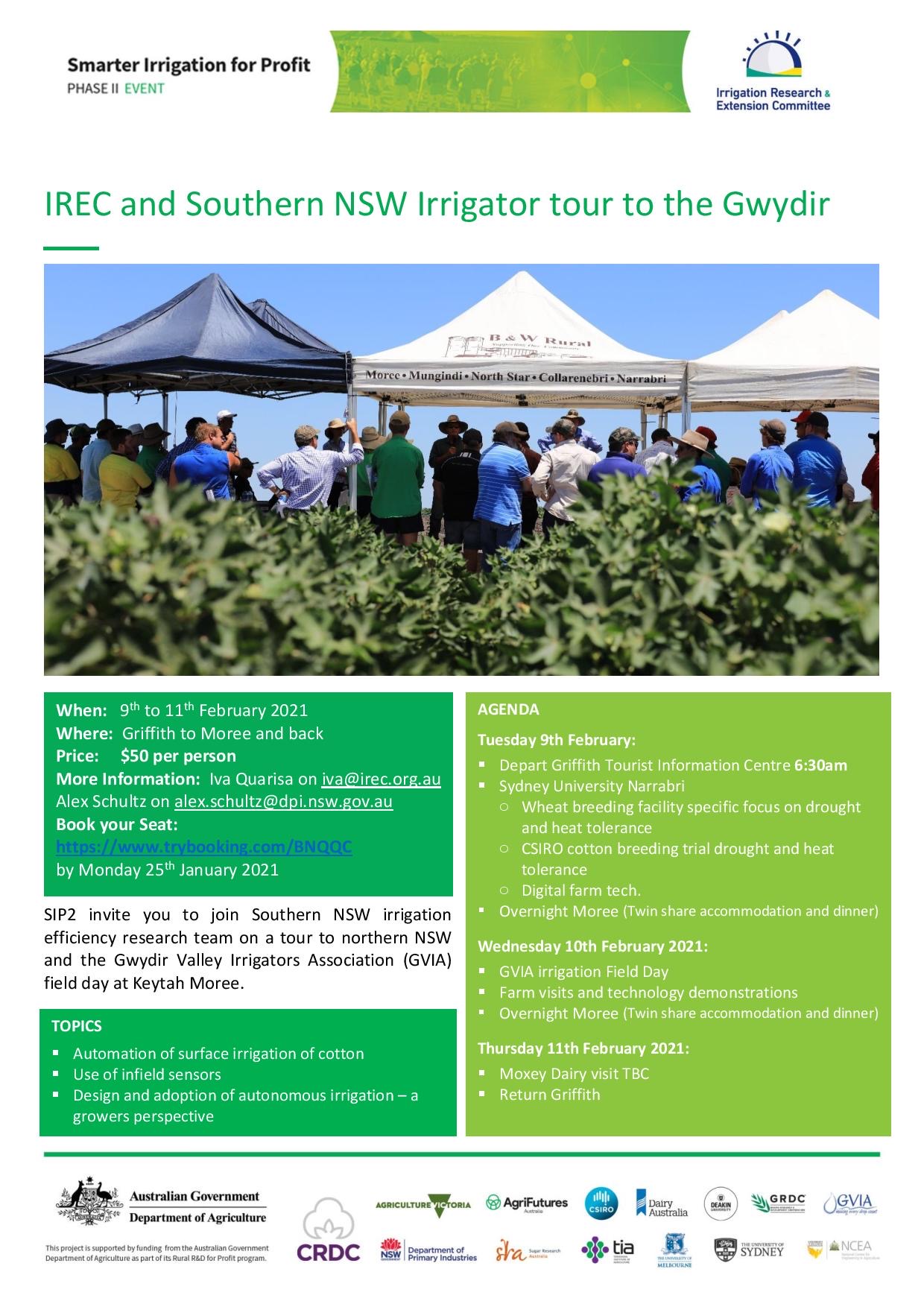 About Smarter Irrigation for Profit Phase II
The Smarter Irrigation for Profit Phase 1 project enabled the completion of valuable research. In areas including irrigation system audits, irrigation scheduling research, investigation of new technology, evaluation of system design and water use efficiency assessments. It demonstrated that improved water productivity hinged on 'Getting the Basics Right'. It found that irrigators could achieve a 10-20 percent improvement in farm profitability by adopting best practice and precision irrigation technologies. This initial project has now led to phase 2.
SIP2 is a partnership between the irrigation industries of sugar, cotton, grains, dairy and rice, research organisations and farmer groups. The objective of SIP2 is to improve the profit of over 4,000 irrigators. It has 14 sub-projects covering three main components:
Development of new technologies including new sensors, advanced analytics to improve scheduling and strategies to reduce water storage evaporation.
Cost effective, practical automated irrigation systems for cotton, rice, sugar and dairy.
Closing the productivity yield gap for cotton, rice, dairy, sugar and grains irrigators through a network of 46 farmer led optimised sites and key learning sites located on commercial farms across Australia.
Check out other upcoming events – Click here