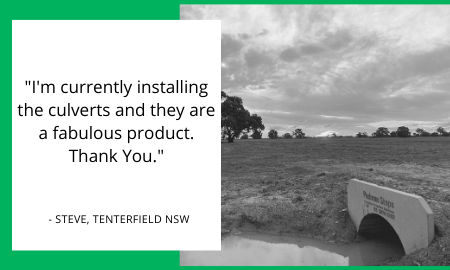 MaxiFlow Bridge Culvert Testimonial
Author: Kirsty Heather
We were stoked to hear from Steve from Tenterfield about the Padman MaxiFlow Bridge Culvert.
He said "I'm currently installing the culverts and they are a fabulous product. Thank You." Thanks Steve, we really appreciate your feedback.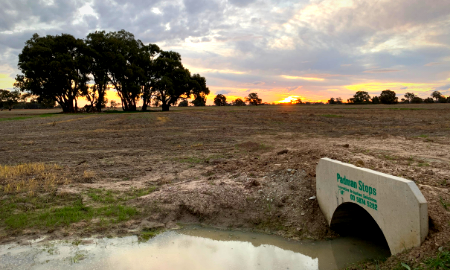 A little bit about our MaxiFlow 
The famous Padman Stops MaxiFlow is a low profile, high flow bridge culvert with built in headwalls with additional centre sections capable of extending the crossing. It's what we've been known for, for over 30 years.
Historically, farmers battled slow water flow, tricky installation and lots of silt build up. Our unique flat-bottomed pipe design allows for quick and easy installation, as they level themselves, and get high water flow where you need it. They also prevent silt build up – a feature our farmers love.
The vehicle access culvert provides an access point/laneway to enable farmers to cross over the channels and head ditch with ease. And they've been built strong enough to handle any farm machinery as required.
Our MaxiFlow culverts have been revolutionising farm efficiency across the country for many years, and we'd love for your farm to be next.
Find out what all our existing farmers are so excited about, by chatting to our specialist irrigation team. They'll be able to show you how our MaxiFlow Crossings can make your entire farm run more smoothly and efficiently.
Share this article