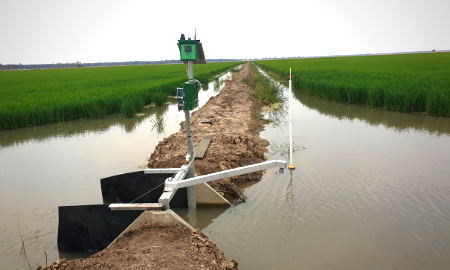 Rice Irrigation Research – Rice Extension Podcast
Author: Kirsty Heather
Rice Irrigation Research: Find out how researchers and industry are working together to develop smarter irrigation control for water and labor savings in rice growing systems.
In this episode of "The Rice Life" podcast our Automation Manager, Grant Oswald was lucky enough to be a guest. He explains the benefits rice growers will see from our industry partnership with John Hornbuckle. And the rice irrigation research project he is working on from the Deakin University, in conjunction with Padman Stops, Goanna Ag and Sunrice.
what products are being used:
The products being used in this trial are our rubber flap inserts. They have been installed into their existing concrete stops. We've taken out the old drop boards and replaced them with our rubber overshot flap doors that come with a hand winch and cables already built into them.
Our portable AutoWinch is then easily clipped onto the hand winch so the doors can become fully automated. This allows the doors to be opened and closed remotely. We have also fitted a water level sensor to these units, which keeps track of the height of ponds. The farmer can then set alerts for events. For example, if your water level drops below a set level, you then receive an alert on your phone. Without having to go down to the paddock you can determine if you need to adjust or close your doors. You can then perform this action remotely from your phone or computer. It allows you to perform extra jobs on the go and have the confidence to know whats happening with your rice at any given time.
John Hornbuckle:
John Hornbuckle describes how his project will eventually help industry partners like Padman Stops and Padman Automation develop automated sensing and control systems that will help move the industry through to a dry rice production system and facilitate the reduction of water use. Which will not only be important because of the high water costs, but the high labor costs associated. The farm automation developed from this research has a lot of potential to help reduce these costs. By involving industry partners from the start of this project means the take up on the research findings is guaranteed. Which means the products are more likely to be developed sooner and purposely. 
Meet a farmers involved in the trial program:
To wrap up the podcast we hear from Chis Morsheah. Chris is a rice grower from Widgelli who has been using our rice irrigation automation and infrastructure during the 2020 rice season. He explains why he would recommend the program to other growers and his experiences with our products.
If you would like to know more about the trial and stay up to date with his project by following @cerrf_griffith on twitter.
Share this article