What a shame the 2020 Cotton Conference was unable to go ahead
We are excited to let you know that instead of having to wait another 2 years, Cotton Conference will be held on the 3rd to the 5th August 2021 at the Gold Coast Convention and Exhibition Centre.
Here's a bit of an update of what we've been up to this year, think of it as  almost like getting to chat to us at Cotton Conference, but different!
We had some really cool products we wanted to release at Cotton Conference this year!
Specifically for our cotton growing customers we have recently released the F10 Flat Stop.  It's bigger, wider and the ultimate in functionality. The F10 is customisable to your farm irrigation needs and layout. It comes standard with our NEW PosiDrive system, which is a real game changer for our industry.
The PosiDrive allows farmers to be able to automate multiple doors from the one automation unit, which makes for an incredible cost effective automation solution.
Find out more about the F10 Flat Stop – Click Here
Find out more about the PosiDrive – Click Here
We Opened a new business…. During a pandemic
In July 2020, we officially launched our new Queensland specific business "Padman Water Solutions" in Ayr, Queensland. PWS will mean we can service our Queensland customers more effectively than ever before.
What's better than Padman Stops?
Padman Stops made in Queensland! Right!?!?
By manufacturing our products for the Queensland market in the heart of the Burdekin region, we are now able to offer much more competitive freight options and produce products that are suited for the unique tropical conditions.
You can pick up products directly from our showroom at Beach Road, Ayr.
To visit the Padman Water Solutions website – Click Here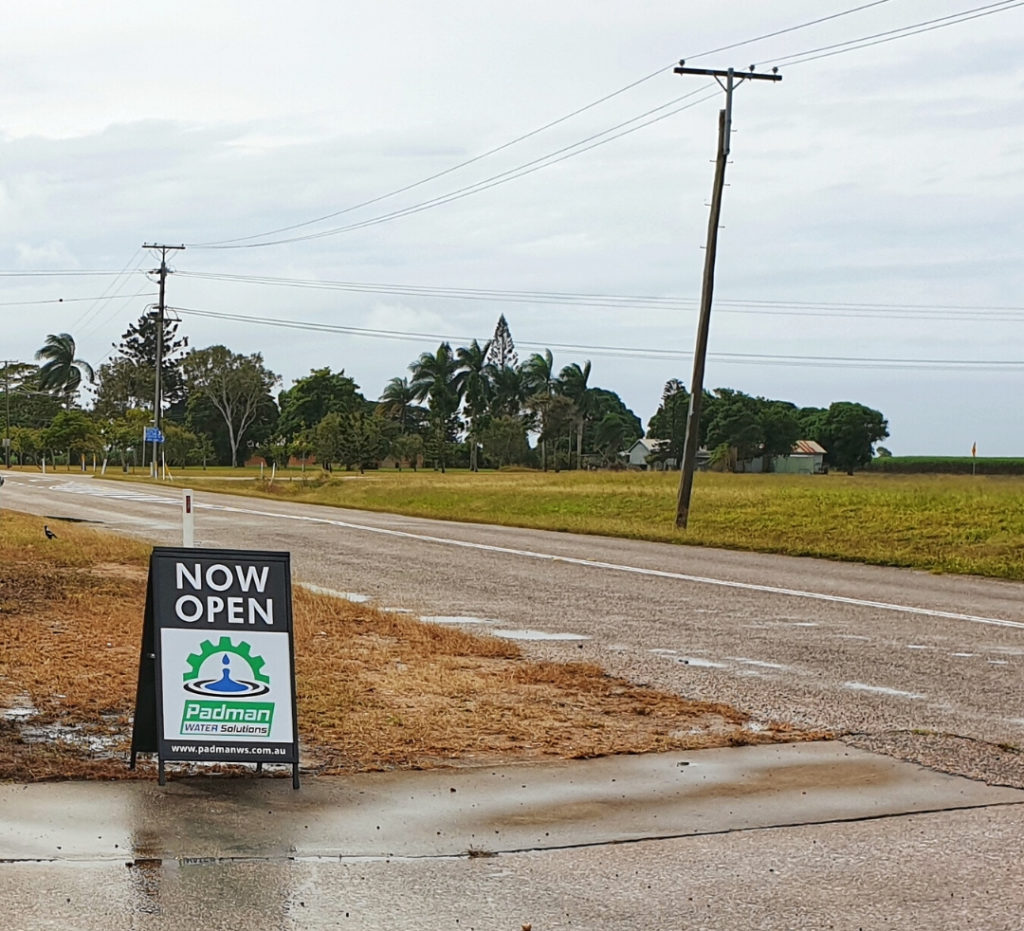 Who we are?
Padman Stops is a manufacturer of precast concrete irrigation gates and irrigation automation for the surface irrigation industry. We've been working hard over the past 30 years alongside farmers to solve their most pressing irrigation challenges.
Our products are unique and achieve some of the best water efficiency rates available. Our simple yet high-precision automation systems take advantage of the latest in modern technology and are giving farmers their time back so they can get back to their families sooner.
For us, it's always been about working alongside Australian farmers to help improve their properties' efficiency and profitability whilst also allowing farmers a better quality of life.
And we can help you achieve these outcomes as well.
Where we've been?
Padman Stops has been "The Farmers' Friend" for over 30 years, transforming water efficiency for farmers and reducing labour, time and cost with innovative products and technology.
From humble beginnings that began with founder, John Padman, inventing products from his backyard shed – to now with up to 50 staff working from their Strathmerton factory, it's certainly been a labour of love. The aim is not to just to help farms become more profitable and easier to run, but also to give farmers a better quality of life, with more time off to relax with their family.
Forever innovating, the Padman Group doesn't just produce and sell products. Instead their dedicated teams design and customise entire specialised surface irrigation solutions for farms right across Australia. We're here to help you.
Where we're going?
The team at Padman Stops are always looking for new ways to innovate and create new solutions and products for farmers across Australia. We also have a genuine desire to make our products more accessible to more farmers than ever before, no matter where they might be located.
This desire has led us to develop several new specialist 'arms' of the business so we can reach more farms and improve more farming lifestyles. These include Padman Automation, Padman Water Solutions and Quick Culverts.
Padman Water Solutions is particularly exciting as it brings our solutions further north, with a brand-new factory in Queensland to enable us to get products to Queensland farmers far more efficiently.