The dairy irrigation industry is where we started this epic journey and will always be a HUGE part of the Padman Group business. While you may see us exploring new industries and building new businesses in other areas. Padman Stops will always remember where it all started!
Before Padman Stops
John grew up on a dairy farm near Mt Gwynne, NSW. Long hours, muddy fields and tricky manually operated dairy equipment were always a constant battle.
While working on the farm, John found himself in the shed more and more. Spending time developing solutions to make farming more manageable. His focus at this time was on watertight irrigation outlets with an interest in automation. During this period, John also invented his own "teat cup remover" for their dairy.
How It All Started
In 1988, John and Christine Padman purchased a house on the outskirts of Strathmerton, Victoria. They moved the family from the family farm, across the border to build his irrigation ideas further into commercial products. People thought they were crazy. But Johns passion and you, our dairy industry customers proved them wrong! The positive encouragement and constructive feedback had John focused on Irrigation outlets predominately for dairy farmers throughout the local region.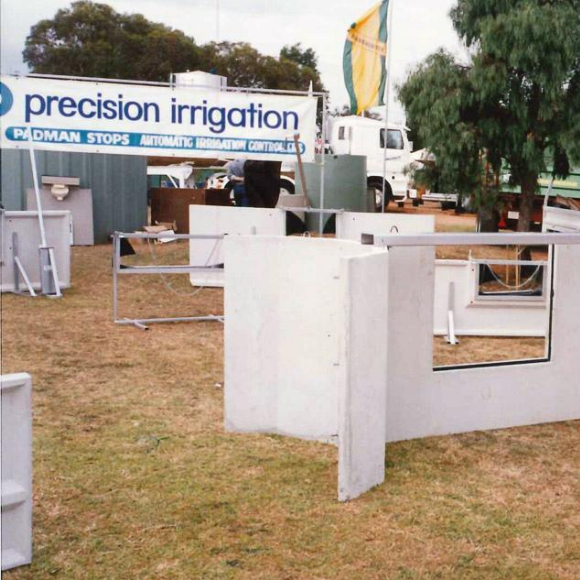 The First Padman Stop
The first Padman watertight rubber flap door was created in 1989. John knew from his own experiences, as well as listening to his customers that there had to be a better solution to the difficult to operate and leaking flood irrigation gates that were the industry standard at the time. With the shed set up, and time dedicated to develop the solution, the "PADMAN STOP" was born.
The original Padman Stop product had a precast concrete outlet with a hinged door and rubber flap to seal it and make it completely watertight. More products followed this initial success, and the rest, as they say, is history….
So while you may see us more actively promoting and developing new products for other industries lately, we are still here, working away for a better future for the dairy industry. If you would like to have a chat with one of our automation or dairy infrastructure specialists,  call 1800 254 594
Be sure to keep up with all the news on Facebook – Click here to follow us